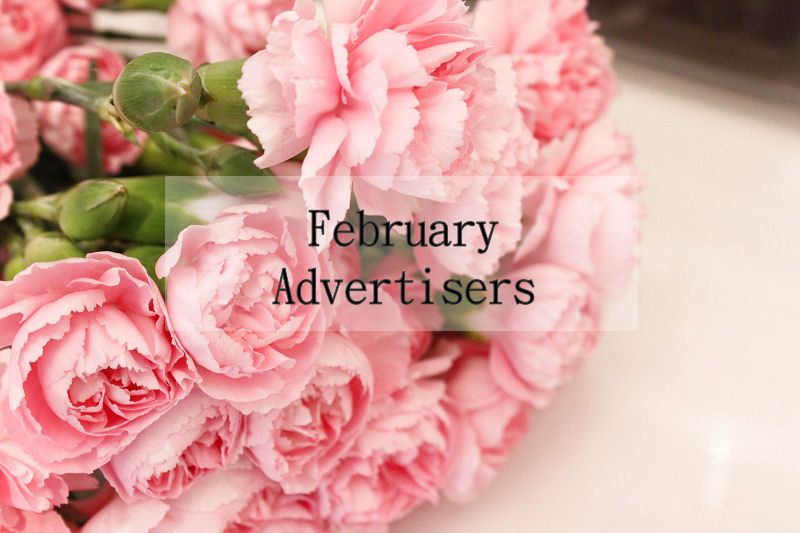 Hello Beauties! It's that time when I get to share the lovely advertisers that have been featured in my sidebar for the past month. Have you had a look at their blogs yet? If not, here is a little about each of them below. Please take the time to take a peak at their blogs as you may even find some new favourites you want to follow.
Please let me introduce my March Advertisers....

BekyLou is a Fashion and Beauty blog that I write alongside my full time job. I put as much time and energy into it as I can and absolutely love doing it. I write everything from reviews, Outfit of the days, nail of the days and lifestyle posts where I just like to have a chat and give my opinion. Giveaways are also a regular on my blog where you can win anything from the newest product release, some of my favourite goodies and recently there was even a giveaway to win tickets to the Premiere of Divergent in London. I'd love it if you could take a peep and give me a follow!

Dulcie's Beauty Blog – A Beauty and Lifestyle blog where I share my beauty favourites and my reviews of products I've tried and products I've liked. Make-up is my thing, with nails as a close second.
Created with inspiration from my beautiful friends, the blog features my make-up looks and outfits, nail polish favourites and skin care picks. A creative space, Dulcie's Beauty Blog brings beauty products, style and fun together.

Laura, a Beauty & Lifestyle Blogger from North East Scotland. I am a coffee drinking, mother of 2 wife of 1.. (lol). Lipstick lover - never usually seen without a bright red lip. A fan of all things sparkly. 'A Scottish Lass' is my night time retreat, a place I can share my loves and meet new friends. You will find an array of different posts on my blog, normally beauty lustings but a few lifestyle posts in there too.
Some of my Holy Grail products are : YSL Touche Eclat Foundation, Mac Ruby Woo Lipstick, Mac 'Constructivist' paint pot & Clarins Flash Balm.
Boots, Sephora (when given the chance) & Oasis
Celebrity Crush - Bradley Cooper
Blog | Twitter | Blog Lovin | Instagram

Hello, I am Anna-Maria the writer of Topdraw Fashion. I believe fashion, beauty and fitness alls rom together and this is what my blog is all about. I love bringing you guys fashion tips, amazing beauty finds and fitness tips and tricks. I post every other day, and sometimes more if i can and along with this i have just started a youtube channel. At the end of every week I do a 'Deal of the Week' post where I find 5 of the best deals for you and where to find them. Hope you stop by and follow my journey here.
Lady Brunette is a lifestyle, beauty and fashion blog written by me, Kelley, a 21 year old Yorkshire girl. My blogging love started out by reading blogs and watching YouTube videos and I thought I want to be a part of that community, so my blog was born back in 2013. I started this blog as a hobby, to keep me occupied when I was recovering from my brain surgery I had in May 2013. At Lady Brunette you can find beauty and lifestyle posts and more. Giveaways and TAG's also appear. I'd love if you could pop on over.

I'm Megan from A Beauty and The Business. In my corner of the interwebs I feature all sorts of beauty related fun! I post about dying your hair blonde, hair care, makeup reviews and tutorials with little sprinkles of my personal life in it. I also feature nail art and skin care!
Come stop by check it out and stay for a while.

Hey everyone!I'm Stef from
scottishstefsnails.blogspot.com
and I am really excited to be featured in Kimberley's post! My blog documents my polish discoveries including swatches and reviews of polishes and nail products. I also post about easy nail art designs that I would like to think that everyone can have a go at. The nail art designs I write about are usually quite expressive rather than precise and intricate so you don't have to worry about whether your nails looks perfect. I love a good beauty/fashion tag post too! Hopefully you will be able to find inspiration from some of the polishes in my blog if you are ever feeling bored with your nails. I love interacting with all the lovely bloggers out there so feel free to leave me a comment or tweet me anytime!
Blog | Blog Lovin | Twitter | You Tube
Michael 84 is a men's fashion and lifestyle blog. You can read my style and trend tips for men, as well as my fragrance reviews. You'll find daily posts on a typical guy's life including my nights out in my city of Newcastle
Blog | Instagram | Twitter | Pinterest | Facebook

Hi I'm Emma, a 32 year old red-head and lover of shoes, food and shopping. Like most girls, I have struggled with my weight and love of food for my entire teenage and adult life, with the food always winning the battle over being skinny! After countless of failed attempts to lose weight, I've finally realised that the best way is to have a healthy lifestyle of eating clean and regular exercise. Join me and my love/hate relationship with my scales as I battle with my junk food addiction and work towards becoming a healthier person, inside and out whilst following the principles of eating clean :)
If you would like to advertise with Kimberley's Beauty Blog the details can be found
here
.

Check out these great blogs by my lovely advertisers:
To advertise with Kimberley's Beauty Blog find out more info here