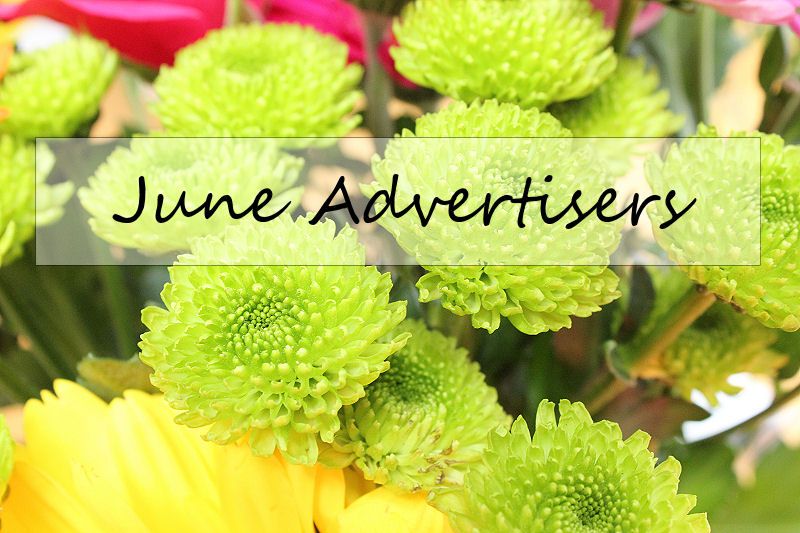 Hello Beauties! We are half way through the year already and I know I say it every month but how fast is time flying? This is a really busy year for me what with my promotion at work and the wedding to plan and I'm sure it's making the time whizz by even more than normal. Anyway, if you haven't already had a look at the lovely advertisers in my sidebar it's not too late! You can also have a peak at the introductions they have written below so you can get an insight into both the blog and their owner!
Please let me introduce my June Advertisers....

BekyLou is a Fashion and Beauty blog that I write alongside my full time job. I put as much time and energy into it as I can and absolutely love doing it. I write everything from reviews, Outfit of the days, nail of the days and lifestyle posts where I just like to have a chat and give my opinion. Giveaways are also a regular on my blog where you can win anything from the newest product release, some of my favourite goodies and recently there was even a giveaway to win tickets to the Premiere of Divergent in London. I'd love it if you could take a peep and give me a follow!

Dulcie's Beauty Blog – A Beauty and Lifestyle blog where I share my beauty favourites and my reviews of products I've tried and products I've liked. Make-up is my thing, with nails as a close second.
Created with inspiration from my beautiful friends, the blog features my make-up looks and outfits, nail polish favourites and skin care picks. A creative space, Dulcie's Beauty Blog brings beauty products, style and fun together.

Laura, a Beauty & Lifestyle Blogger from North East Scotland. I am a coffee drinking, mother of 2 wife of 1.. (lol). Lipstick lover - never usually seen without a bright red lip. A fan of all things sparkly. 'A Scottish Lass' is my night time retreat, a place I can share my loves and meet new friends. You will find an array of different posts on my blog, normally beauty lustings but a few lifestyle posts in there too.
Some of my Holy Grail products are : YSL Touche Eclat Foundation, Mac Ruby Woo Lipstick, Mac 'Constructivist' paint pot & Clarins Flash Balm.
Boots, Sephora (when given the chance) & Oasis
Celebrity Crush - Bradley Cooper
Blog | Twitter | Blog Lovin | Instagram

Hello, I am Anna-Maria the writer of Topdraw Fashion. I believe fashion, beauty and fitness alls rom together and this is what my blog is all about. I love bringing you guys fashion tips, amazing beauty finds and fitness tips and tricks. I post every other day, and sometimes more if i can and along with this i have just started a youtube channel. At the end of every week I do a 'Deal of the Week' post where I find 5 of the best deals for you and where to find them. Hope you stop by and follow my journey here.

Hey everyone!I'm Stef from
scottishstefsnails.blogspot.com
and I am really excited to be featured in Kimberley's post! My blog documents my polish discoveries including swatches and reviews of polishes and nail products. I also post about easy nail art designs that I would like to think that everyone can have a go at. The nail art designs I write about are usually quite expressive rather than precise and intricate so you don't have to worry about whether your nails looks perfect. I love a good beauty/fashion tag post too! Hopefully you will be able to find inspiration from some of the polishes in my blog if you are ever feeling bored with your nails. I love interacting with all the lovely bloggers out there so feel free to leave me a comment or tweet me anytime!
If you would like to advertise with Kimberley's Beauty Blog the details can be found
here
.

Check out these great blogs by my lovely advertisers:
To advertise with Kimberley's Beauty Blog find out more info here